​During all the stressing over a housewarming party I was cooking for, I neglected Friday's comic. Sorry! In my defense, I prepared five dishes. It was pretty wild.
In return for my slight, here's my vegan banh mi recipe, which was a huge hit. Feel free to use pork instead of tofu if that's your jam.
Baguette (Vietnamese baguettes are a little different from the French variety. I used a hoagie roll, because Philadelphia)
Tofu
Hoisin Sauce
Soy Sauce
Sriracha
Vegan Mayo
Onion
Garlic
Jalapeno pepper (Remember to wash out the seeds, or they will kick your ass)
Cilantro
Carrots
Radish
Sugar
White vinegar
Salt
Pepper
Combine equal parts sugar and vinegar with 1tsp of salt. Throw julienned carrots and radish in to pickle overnight.
Combine 3 parts mayo with 1 part sriracha to make spicy mayo.
Combine 2tbsp hoisin Sauce, 2tbsp soy sauce with sriracha, garlic, and pepper to taste.
Finely dice onions and saute in oil. Add tofu, hoisin mixture, and stir it all together.
Toast baguette
Avengers, assemble! Add tofu mix, spicy mayo, pickled vegetables, sliced jalapeno peppers, and cilantro.
Enjoy!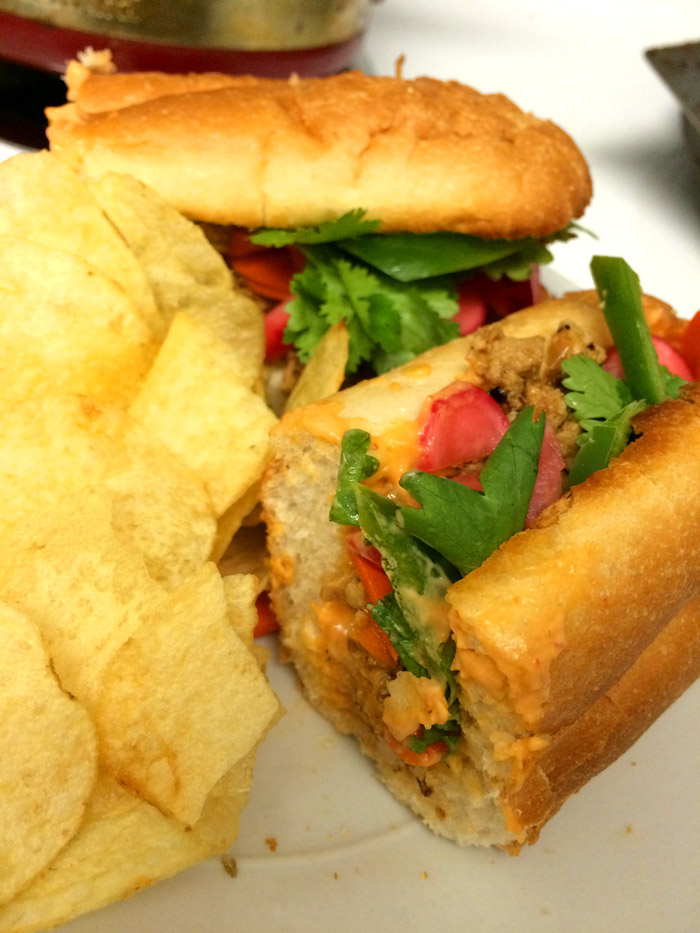 In other news, I'm going to be at Dragon Con next weekend! Check out my speaking schedule over at Popular Science.